We love our curly-haired clients! Because we understand that curls need their own special kind of love..... especially at this time of year, when it's cold outside and the central heating is pumped up in doors!
Jonny Brier, at Linton knows curls - here's his fail-safe guide to keeping your curls in tip-top condition this winter:
1. use a really moisturising shampoo & conditioner - Windle & Moodie's newest addition to their hair care family is Ultra Nourishing Treatment Shampoo & Conditioner. It is packed full of delicious tea extracts and oils... baobab and babassu oils strengthen whilst adding shine and lustre to tired locks!
2. adding a couple of drops of oil onto wet hair, before you twist your hair up in a towel can be a much needed extra treat this time of year - the warmth and wet hair means your hair drinks up all the goodness that the oil has to give, getting to work on each hair from the inside out! Windle & Moodie have a great one Shine & Smooth Oil, which is super lightweight so won't lead to drooping curls
3. for a spot of heat protection pre blow-dry, prep hair with Fortifying Spray, sugar beet extract moisturises whilst strengthening and adding shine and thickness
4. Windle & Moodie Curl Enhancer, needs no introduction... it is firm salon fave and a must for any curly hair routine - it does exactly what it says on the tin, enhances curls!
5. a little something to hold curls together before blow-drying is a good idea - we like an spot of Matte Paste, or Volcanic Ash Wax - just a tiny small amount, through the ends defines each curl through blow-drying
6. we recommend a diffuser for drying - hold head upside down and blast hot and high. At this point, try not messing with your curls too much as you can separate too early and they can become frizzy - wait until hair is dry and then mess up by giving your curls a shake from the root
7. we understand that as a member of the curly-haired gang, you don't want to be washing your hair everyday - so inbetween times, wet down with a water spray and re-style
Top Tip: add a few drops of oil to your water spray, so you can spritz an extra bit of love on your curls daily
Hair Saviour: Windle & Moodie Invisible Day and Night Cream is the dream... smells like monoi oil and is like a lip balm for your hair - use in between shampoos on wet or dry hair as your go to product. For all hair types at any time of year
ENJOY!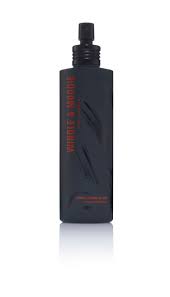 Check out the Windle & Moodie website here
Full range available at Linton and Mac